This page is currently under construction, it will contain pics of my twisted handel spike knives, and throwers as they become finished. Check back soon.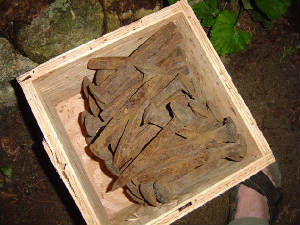 Many, many thanks to my friend Chris for the box of spikes.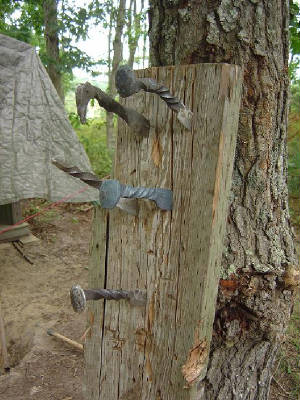 Various knives in different stages of completion being thrown tested.




Viking Saxe

This is a viking saxe style blade with a twisted handle made from a railroad spike.

Drop Point

This is a drop point blade that I made for a Marine friend. The head has been smoothed out for a hammer striking surface to be used for tent stakes ot whatever needs bashing. Semper Fi, Duncan.





Curved Spike

This is a curved blade and handle with a reverse twist in the handle.
Twist Detail

Twist Detail





Railroad Skinner

Railroad spike knife with a flatened twist handle and a filework thumb stop.
Thrower

This is a railroad thrower that I made for my little brother Theran. The head has been hot cut off and tapered.
kukri

This is a little kukri shaped blade for hiking.





Spike Dagger

Spike Dagger II

This knife is from a high carbon spike. It has a single twist handle with sanded twist edges, a drop point, and a filed thumbstop on the spine. The blade is 4" by 3/16" and 8 3/4" overall.